Okay, I'm back, and I have a decision on the fic ideas. Drum roll please.......... And the winner is:

Cabin Fever!!!!!!!

::: and there was much rejoicing::::

Actually, I have started it but I wanted to try something a little different now that I have the flexability of the LJ, so it may take me a little longer than I had expected. But in the meantime, I started a John/Rodney slash fic... pure fuzziness Koschka calls and she swears that's a good thing. So be on the lookout for that in a few days if slash is your thing.

quick summary of my trip:

Most ridiculous thing uttered by my nearly four-year-old daughter: That boy has a pee pee (in reference to the nude statue situated by my head in the Greek restaurant we stopped at for dinner on the drive down.)

Most ridiculous thing utter by myself to same child: Stop rubbing your grilled cheese sandwich on it, you'll only make it itch more.

Most delicious thing I ate on the trip: Warm apple and peach pie with cinnamon ice cream on top in little mountain town of Julian.

Most unusual thing I saw: toss up between the crow and vulture hanging out on a rock together and the filming of a TV movie in Julian that I'm pretty sure was staring Bruce Boxleitner... it was hard to tell since the guy was wearing a sherrif's uniform and dark sunglasses and all he did was cross the street about twenty times because the people on the sidewalk kept staring at the camera and pointing and they had to reshoot.

Most amazing thing I saw: A young gray whale frolicking in the surf.. the *surf*. I've never seen one that close to shore.

Most enjoyable read I've had in a long time: Moonshine by Rob Thurman.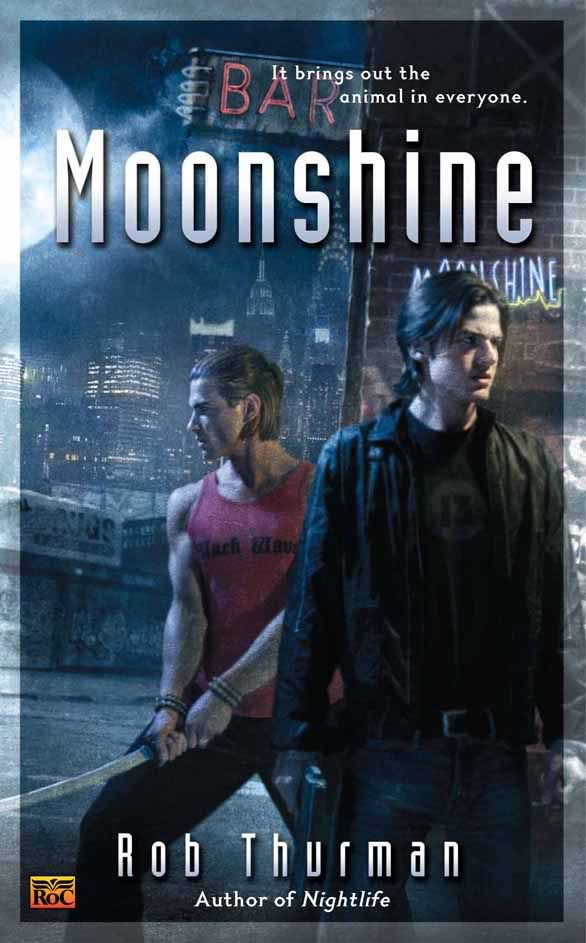 Yes, okay, I may be a little biased here since I do get mentioned in the acknowledgements *G*, but honestly, I would read the phone book page for page if Robyn wrote it. That's how much I love her stuff. And this is no exception. It's the sequel to Nightlife and once again she does an amazing job of showing the lengths the two brothers Cal and Niko with go to for each and it's a h/c / angst junky's wet dream. What's more, she delves into the world of the werewolves, the underworlds equivalent of the mob, and let me tell you, these are not your typical werewolves. At times dark and creepy and others hilarious, this book never lets up on the action and has a well paced and griping plot full of double crosses, covert operations and throughout it all the brotherly love and friendships that are being built between the characters.

So, go, buy, read. Buy another copy and give it to your friends. For every book purchased, the author gets to eat three packs of ramen noodles (four if they're on sale). And then stop by her lj
robgoodfella and let her know how much you loved the book. I promise, you won't be disappointed.