Here's the Saturday and Sunday report that includes BSG and SPN.



Saturday

We got to the convention center a little late on Saturday and just roamed the exhibition hall looking for loot for a while before Robyn got her nerve up enough to put on her Dark Phoenix costume she'd made. I'm a fangirl, no doubt, but I'm a very quiet and reserved fangirl… I don't dress up, I don't tackle celebrities in the hallway. Hell, I could be sitting next to the entire cast of SGA in a restaurant and wouldn't bug them for an autograph. But for those you enjoying dressing up, there are plenty of others who do it at Comicon. So, I was relegated to carrying Robyn's crap…. she used the term packmule, I stressed that the correct term was Sherpa. Regardless of what you called me, I was more than happy to fade into the background as she stopped over and over and asked to be in photos. For one, I'm horribly unphotogenic, for another, it let me avoid the cooties of the various fanboys who were, no doubt, going to go back home to their parent's basement and do unmentionably disgusting things to themselves while looking at the photos. And finally, it let me stand to the side and laugh my ass off as she unknowingly signed a waiver to allow her photo to be in Hustler magazine. She was having her photo made with Emma Storm… Dark Phoenix's arch nemesis. Emma wears little more than a white bikini, big white boots and full length white cape. The two of them are posing and mock fighting when two guys with professional photo gear come up and ask if they would let them take some photos for the magazine. I thought I heard the name, but thought surely I didn't hear it correctly. But, sure enough, on the side of the guys camera bag is Hustler. Linda and Richard, fellow Stargate fans, were also there taking photos and I point the bag out to Richard who also starts laughing with me. Robyn and the Emma Frost are happily signing away their virtue and when she finishes and finishes posing some more I catch my breath long enough to ask, "Do you know what magazine that was?" She looks confused and says, "I assume it's the Comicon magazine they send out every year." Once I clue her in on the true identity of the magazine she confesses that she not only signed the waiver, but put her pen name and noted that she was Penguin Putnam author on the waiver. And then was rather proud of the fact that at age 41 she was asked to appear in Hustler.

Dark Pheonix and Emma Frost
Battlestar Galactica
BSG is the only panel we saw on Saturday. We stood in line for two hours again. We finally did make it in for BSG… Joss Whedon's new show Dollhouse was in the room before us and anything that has his name even mentioned during the panel has lines out the whazoo. Honestly, at this point, I don't really remember too much about what they talked about. Kevin Smith was the moderator and the man is hilarious and steals the show no matter where he is. What I do remember was Katee Sackhoff (Starbuck) saying how much she loves to play with the guns she's given. And James Callis (Baltar) talking about how he was always thinking about the dichotomy of Baltar trying to be a religious figure and still sleeping with all the women and the director finally telling him, stop analyzing it and just sleep with the women! And Katee Sackhoff talking about how the director had to tell Tahmoh Penikett (Helo) to stop shooting like a girl and how he was doing this Xanadu meets Blue Steel expression when he was shooting. Michael Trucco (Sam) talked about how excited he was to find out he was one of the final five, especially when he didn't think he'd ever show back up again on the show after his first stint and no one even knows his name on set. They just finished final filming of the series and a few people talked about where their characters ended up….
POSSIBLE SPOILER ALERT! SCROLL DOWN TO THE NEXT SET OF CAPLOCKS TO AVOID!
*
*
*
*
*
*
Tricia Helfer (Six) said she and Baltar got to shoot lots of guns in their final scenes together. James Callis said he felt Baltar had found redemption and Katee Sackhoff said that Starbuck finds peace and that's all she could hope for. Michael Trucco said Sam dies a bloody death, then said, no not really and then he said, yeah really. So, I guess anything goes. Someone noted that some character's stories will be all wrapped up and others won't be and that's the way it should be.
They also showed clips of the new show Caprica that is set before the attack. It's not clear how many generations back it is but the Adama family is a main player and it looks like Esia Morales (Major Beck in Jericho) will play the Adama patriarch and I do really like him as an actor. There were hints that the humans actually created the humanform cylons in order to preserve a dying daughter, which might hint at who is the last cylon…. Maybe????
*
*
*
*
*
*
*
*
*
OKAY, SPOILERS OVER. IT'S SAFE TO BEGIN READING AGAIN.
BSG Panel
We took off pretty soon after the panel, stopped in Old Town to eat dinner, and headed home early that day.
Sunday
Supernatural
Once again, it was the line from hell waiting to get into the room for Supernatural. Smallville was right before Supernatural and we actually got in early enough to watch it, although I don't watch the show so I know nothing about what they were talking about. We did meet some very nice young brothers who were sitting in front of us and who always try to watch the show together. And in front of them there was a couple who was making out the entire two panels…. Hands all over each other. Gah! You know, holding hands in public doesn't bother me, the occasional kiss is fine, but he wouldn't keep his hands off of her and she kept running her fingers through is hair and touching his face and I really, really, really wanted to slap them apart. It didn't help that she was showing at least three inches of butt crack, not even a thong, and she was wearing a shirt that said coochie power. Don't get me wrong, she was a very attractive young woman, but it was enough to disgust the two brothers… disgusting guys in their 20s (and yes at least one was heterosexual since he was married with a kid) is pretty damn bad.
Anyway, both Jared and Jensen made it this year. They started the panel by showing the first five minutes of the season premier. So, here's the play by play….
MAJOR, MAJOR SPOILERS FOR THE SEASON PREMIER OF SUPERNATURAL.
*
*
*
*
*
*
*
*
*
*
It starts out with a black screen with the sound of heavy, panicked breathing. Then a lighter is lit and we see Dean in a small enclosed space… a coffin. He manages to pry a piece of wood free and dirt falls in on his face. The scene changes and you see a grave out in the middle of nowhere marked with a simple wooden cross and then a hand bursts up through the grass and soon Dean pulls himself up to fall on his back gulping air. Next thing you see is him walking down a dirt road and finds a little market. No one is there so he breaks in, goes and drinks a bottle of water then he checks himself out in the mirror, raising his shirt to see if there are any marks from the hell hounds ripping him to shreds… flashback to that happening… there are no signs of the attack but there is a hand print burned into his shoulder. He then starts gathering supplies…. Water, food, Busty Asian Beauties magazine. He picks up a newspaper and sees it's now September (the headline says something about arsons). He opens the cash register to take the money and the television turns on. He turns it off and it turns on again and so does the radio. That gets Dean's spidey senses going and he quickly starts salting the windows. That's when the radio squawks loudly and the windows blow out and the clip ends.
*
*
*
*
*
*
*
*
*
*
SPOILERS ARE OVER. IT'S SAFE TO READ AGAIN.
They also showed the blooper clip from the Season 3 DVD and it has some very funny bits. The panel itself didn't tell much about the upcoming season. Kripke did bash on his writers… who were right there at the other end of the table, btw… by saying that the actress who played Bella was a wonderful actress, the writers just couldn't write for her, which is why they wrote her out like they did. He said it twice and the writers just kept looking at each other in amazement that he would say something like that in front of not just them but the entire group watching it. He also said that he didn't see the show going past five seasons, since he wanted to go out on top, so, I guess, enjoy the show while you can. Someone asked about rumors that Sam was getting steady girlfriend this season and Kripke admitted that Sam will definitely be swapping body fluids with someone this season but he'd intentionally misled the reporter when he said it was a long-term relationship for Sam. And that's about all I can remember worth repeating.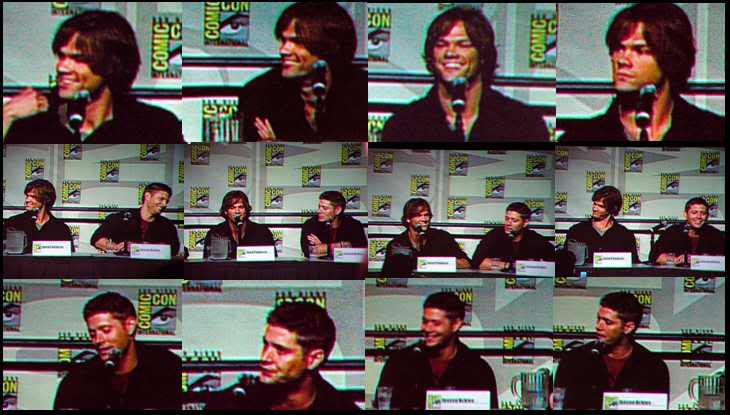 After that, we did one final sweep of the exhibition hall and said so long to Comicon for another year. It's always a total blast, but it's also totally exhausting!